About Kunstkonserveringen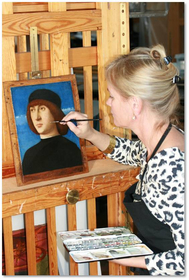 The primary objective of Kunstkonserveringen (The Art Conservation Center) is to execute the conservation of art within the framework of the preservation of the Danish cultural heritage.
Kunstkonserveringen performs counselling, preservation and restoration for Danish art museums and private collectors. We also carry out work for a number of cultural historical museums, municipalities, castles, institutions, churches, and for other public and private art collectors.
Kunstkonserveringen covers all disciplines within the preservation of art. We carry out the conservation and restoration of paintings, graphics, drawings, sculptures, murals, photographies, and also composite works of art, art installations, etc. We offer the examination and documentation of the condition of works of art and advise on storage, environmental conditions, lighting and disaster recovery. We handle individual pieces as well as entire collections and artworks of all different sizes.
Kunstkonserveringen also provides consultancy services. We offer our assistance in the acquisition of art pieces, carrying out surveys of collections or loans of works of art for exhibitions. In addition, we organize transportation and offer framing and mounting services that are tailored to meet any specific needs or requirements.
Kunstkonserveringen was founded in 1978 by an association of Danish art museums with the aim to improve the preservation and storage of art. With a large nationwide conservation centre with well-equipped workshops and highly skilled employees, we meet the many demands for art conservation today, as well as in the future.
Please find our contact details at the bottom of this page